News
Customize Your Comfort: Find the Perfect Recliner Cover for Your Style
by Coziero Wuhu on Jul 11, 2023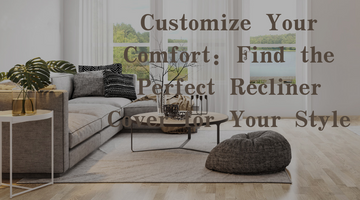 Your recliner is more than just a piece of furniture—it's your personal oasis of comfort. But over time, it may start to show signs of wear or no longer match your evolving style. That's where recliner covers come in. These versatile accessories not only protect your recliner from stains, spills, and wear but also allow you to customize your comfort and transform your living space. In this blog, we'll explore a range of recliner cover options that cater to different styles and preferences. Get ready to find the perfect recliner cover that suits your needs and enhances your comfort in style.
Experience the ultimate protection for your recliner with a non-slip waterproof cover. Designed to repel spills and stains, these covers provide a barrier against accidents while featuring a convenient pocket to keep essentials within reach.
Upgrade your recliner's look with a non-slip cover that combines style and function. These covers offer a secure fit, ensuring they stay in place while protecting your recliner from everyday wear and tear. The added pocket provides a practical solution for storing remotes, magazines, or other small items.
When the temperatures rise, opt for a summer honeycomb non-slip breathable recliner protector. These covers feature a unique honeycomb pattern that allows for enhanced airflow, keeping you cool and comfortable during hot summer days.
If you have multiple recliners or want a cover that fits various sizes and styles, consider a universal non-slip recliner chair cover. These covers are adjustable to ensure a snug fit and often come with a storage bag for easy organization and convenience.
Accidents happen, but they don't have to ruin your recliner. Invest in a waterproof recliner cover that acts as a protective shield against spills and stains. These covers are easy to clean, allowing you to maintain the pristine condition of your recliner effortlessly.
For a touch of elegance and longevity, opt for PU leather waterproof stretch recliner slipcovers. These covers mimic the look and feel of genuine leather while offering the added benefit of waterproof protection. Enjoy the luxurious feel while knowing your recliner is safeguarded.
Experience a perfect fit and premium protection with a water repellent stretchable recliner slipcover. These covers are designed to contour to the shape of your recliner, ensuring a tailored look while repelling water and spills.
Transform your recliner into a statement piece with a jacquard large leaf split recliner chair cover. These covers feature intricate patterns and a split design for easy installation. Elevate your living space with a touch of elegance and sophistication.
Create a cozy and inviting ambiance with a flocked fleece solid color stretch recliner cover. These covers provide a soft and plush feel while offering a solid color design that complements any interior decor. Wrap yourself in comfort and style.
Customize your comfort and protect your recliner with a cover that suits your style and preferences. Whether you prioritize practicality, waterproof protection, luxurious aesthetics, or cozy comfort, there's a recliner cover for you. Explore the options mentioned above and find the perfect cover to elevate your recliner's look, enhance your comfort, and preserve its longevity. With a customized recliner cover, you can enjoy the ultimate relaxation in a space that reflects your personal style.