News
Enhance Comfort and Elegance: Why Chair Covers Are a Must-Have
by Coziero Wuhu on Jul 26, 2023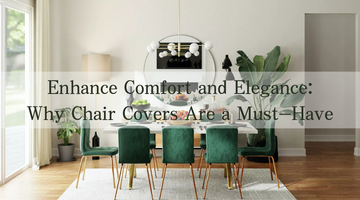 When it comes to organizing a special event or sprucing up your dining area, attention to detail can make all the difference. While you might have invested in beautiful furniture, there's one element that can truly elevate the overall look and feel of the space - chair covers. Not only do chair covers add a touch of elegance to any setting, but they also enhance comfort for you and your guests. In this blog, we'll explore various chair cover options that are a must-have to create an inviting and sophisticated atmosphere.
Looking for a chair cover that fits like a glove? Soft spandex stretch dining chair covers are the perfect choice. Made from high-quality, stretchable fabric, these covers snugly fit over your chairs, giving them a sleek and tailored appearance. With a variety of solid colors to choose from, you can easily match them to your existing decor or event theme.
If you're aiming for a more refined and textured look, the Skive Jacquard Solid Color Chair Seat Cover is an excellent option. Its intricately woven jacquard pattern adds a touch of luxury and sophistication to any dining experience. Not only do these seat covers protect your chairs from spills and stains, but they also provide an extra layer of cushioning for enhanced comfort.
Embrace nature-inspired elegance with the Thick Jacquard Leaf Pattern Dining Chair Cover. This cover features a beautiful leaf design that brings a sense of the outdoors into your indoor space. Crafted from durable and thick jacquard fabric, these chair covers not only look luxurious but also ensure lasting protection for your chairs.
For a chic and contemporary touch, consider the PU Solid Color Stretch Chair Cover. Made from premium PU leather, these covers offer a sophisticated appearance with the added benefit of being water-resistant and easy to clean. They effortlessly add a touch of modern elegance to your event or dining space.
Create a cozy and inviting ambiance with the Flocked Fleece Solid Color Stretch Chair Cover. The soft and velvety texture of these covers adds warmth and comfort to your chairs, making them perfect for winter events or adding a touch of luxury to any gathering.
If you have armless shell chairs, don't worry - we have you covered! The Surah Jacquard Solid Color Armless Shell Chair Cover is tailored to fit these chairs perfectly. The surah jacquard fabric adds an element of sophistication, while the cover itself protects your chairs and enhances the overall aesthetics.
If you want a versatile chair cover that can accommodate various chair sizes, the Super Fit Stretch Dining Chair Protector is an excellent choice. The super stretchy fabric can easily adapt to different chair shapes, ensuring a snug and wrinkle-free fit every time.
For those who prioritize both comfort and elegance, the Stretch Thick Jacquard Dining Chair Cover strikes the perfect balance. The thick jacquard fabric not only looks plush but also provides a comfortable seating experience for your guests.
Finally, the classic Spandex Stretch Dining Chair Covers are a timeless choice for any event or dining occasion. Their simple yet elegant design, coupled with the stretchy fabric, ensures a seamless fit and a refined look for your chairs.
In conclusion, chair covers are an essential investment if you want to enhance the comfort and elegance of your events or dining space. With a wide range of options available, you can easily find the perfect chair covers that match your style and elevate the overall ambiance of your space. So, why wait? Transform your chairs and transform your space with these must-have chair covers today!