News
Sculpt Your Office Oasis: Essential Chair Covers You Can't Miss
by Coziero Wuhu on Aug 04, 2023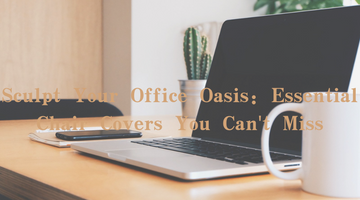 When it comes to crafting your ideal office oasis, the devil is in the details. Introducing our range of essential chair covers that effortlessly blend style, comfort, and functionality. Get ready to transform your workspace into a haven of creativity and productivity with these must-have chair cover options:
Embrace simplicity with these versatile chair covers that easily slip onto your office chair, instantly revitalizing its appearance. The split design ensures a snug fit and effortless installation, making it a go-to choice for a quick and stylish upgrade.
Add a dash of personality to your workspace with our printed chair cover. Crafted for durability and easy maintenance, this one-piece cover is a statement-making addition that showcases your unique style.
Elevate your ergonomic experience with a chair cover that extends its care to your armrests. This universal design combines full coverage with a touch of luxury, ensuring both your chair and you feel pampered.
Double the charm with a seat slipcover duo that embraces your chair's seat and backrest. The stretchable fabric ensures a seamless fit while the two-piece construction adds a layer of sophistication to your workspace.
Minimalism meets elegance with this solid color jacquard cover. Its understated texture and classic tones bring a touch of refinement to your office, making it an ideal choice for those who appreciate timeless beauty.
Indulge in luxury with our velvet chair cover that extends its plush embrace to your armrests. The softness of velvet meets practicality, protecting your chair while enhancing your comfort.
Whether you're looking to revamp your chair's aesthetics, protect it from wear and tear, or simply infuse your workspace with a new vibe, our essential chair covers have got you covered—literally! Don't miss out on the chance to sculpt your office oasis into a realm of beauty and functionality. Explore our collection today and let your chair become a canvas of comfort and style. Your oasis awaits.