News
🔥Holiday Sale - 5 Top Dining Chair Covers
by LILY YAO on Nov 22, 2022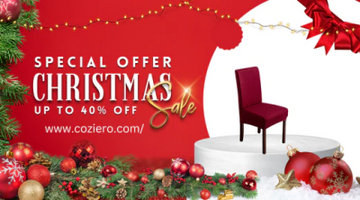 'Life happens in a dining room', it is said, and it is no surprise why! From lazy breakfasts to family meals, and endless gossip to table games, the dining table is where all the buzz in the home happens. Here's how you can create a dining setting that is in sync with your family's lifestyle and your home's design sense.
If you plan to improve the overall look and design of your dining room, you need to decorate everything properly. There are some useful accessories that you can purchase for your dining room today, including dining room chair cover. This cover is very useful to protect your dining chair while improving the overall look of your home. There are some recommended chair covers that you can buy from the market nowadays.
Here are top 5 best dining room chair covers for sales in 2022 reviews that you can read from this article now.
1.🔥Holiday Sale- Soft Spandex Solid Color Stretch Dining Chair Covers
Coziero Dining room chair covers can transform your old chair to brand new, freshen up your interior decor, and extend the life of the chair to save your money. Decorative chair covers can be used for living rooms, wedding banquet, hotels, meeting, celebration, ceremony, dining room. etc.There are 25 color choices.
2.🔥Holiday Sale - Spandex Solid Color Stretch Chair Cover
Coziero chair covers safeguard your dining chairs from stains, dirt and pet damages as they update furniture to fit your evolving style. Armless chair slipcover is perfect for homes with kids, dogs and cats, allowing it to perfectly combine style and durability, add new life to your chairs.
3.🔥Holiday Sale - Culex Jacquard Solid Color Dining Chair Cover
Made of 92% polyester and 8% spandex, stretches to fit most chairs easily. Equipped with elastic band, easy to fit and anti-slip, wrinkle resistance and reusable.Stylish rhombic lattice jacquard fabric design, give your old, damaged or ugly chair a new look and protect your chair seat from scratches, spills and accidents, especially if you have kids and pets.
4.🔥Holiday Sale - Plaid Fleece Long Back Solid Color Stretch Chair Cover
High quality upholstery materials make this dining chair cover thick, durable, wrinkle free, soft and skin friendly. Innovative designs paired with larger and wider plaids make your old chair feel like you're wearing new clothes. Simple and Relatively Inexpensive Ways to Really Transform Your Home Decor.
5.🔥Holiday Sale - Pilch Spandex Print Dining Chair Cover
If you often organise house parties, switch up the look of your home and impress your guests. Whatever your theme may be, get into the mood of the party with new dining chair slipcovers. A good setting makes the event more memorable and the photographs will turn out great too.