News
5 Choices To Select Dining Chairs
by LILY YAO on Nov 17, 2022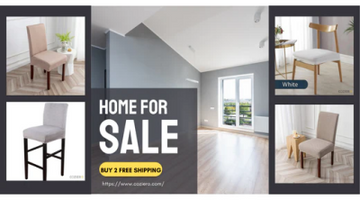 Kitchens are often the center of our homes. With family coming and going, cooking, and eating meals, we spend a lot of time in our kitchens. If your kitchen starts to feel stale after awhile, you can quickly liven it back up with color and fresh accessories like fabric seat covers for your chairs.
Matching chairs and tables are considered to be boring and predictable by many interior experts. But some swear by it. Today's contemporary homes and global trends have introduced many types of chairs that you can mix and match. More options mean more confusion, right? That's why we are here to give you five easy choices to help you make your decision.
Coverings shall extend the useful life of your couch, and easy to care while making it seem brand-new.Get one piece for Christmas,Halloween,birthdays, and other festivals.
We take so much trouble on the looks and design that the comfort of 

chairs is relegated to the last. Not everything that looks good, seats well.
Armchairs at the dining table are important because they provide comfort to old people, sick, pregnant women and children. Since the dining room needs movement, buy chairs that can slide under the dining table. 
As we have mentioned before, matchy-matchy chairs and tables are not really in vogue now. Dining chairs that are a play on colour and senses look much better than exact matches. 
Medium to dark coloured fabrics works best for dining chairs, especially if you expect messy paws and little hands all over them.
The definition of a true classic is work of art of recognized and established value, something that will never go out of style, which is the perfect way to describe our slipcovered furniture.