News
Instant Style Upgrade: Explore the Best Ottoman Cover Options
by Coziero Wuhu on Aug 29, 2023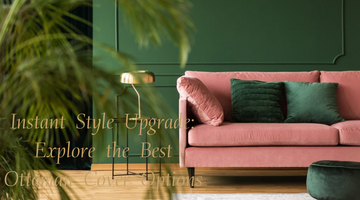 Are you looking to give your living space a quick and easy style upgrade? Look no further than our exquisite collection of ottoman covers! These versatile and fashionable accessories are designed to not only protect your ottoman but also add a touch of elegance and personality to your room. Join us as we delve into the world of ottoman cover options that will transform your space instantly.
Indulge in opulence with our Velvet Rectangular Ottoman Covers. The soft and sumptuous velvet material exudes luxury while protecting your ottoman from wear and tear. Available in a range of rich colors, these covers make a bold statement and invite you to relax in style. 
Simplicity meets sophistication with our Algor Jacquard Solid Color Ottoman Cover. Crafted with a timeless solid color design and intricate jacquard texture, this cover effortlessly adds a touch of luxury to your ottoman. Whether you're aiming for a classic or modern aesthetic, this option is bound to please.
Upgrade your ottoman's appearance with the Algor Jacquard Ottoman Cover. The unique jacquard pattern adds depth and dimension to your ottoman, creating an eye-catching focal point. Explore a variety of color options to seamlessly blend with your existing decor or to create a stunning contrast.
For a clean and tailored look, our Stretch Square Ottoman Covers are a perfect fit. The stretchable fabric ensures a snug and sleek appearance on your ottoman. With their modern vibe, these covers are designed to complement various design themes and effortlessly elevate your room's aesthetic.
Small in size, but big on style – our Hadal Jacquard Solid Color Ottoman Cover in a small size is a versatile choice for compact ottomans. The jacquard texture adds sophistication, making your ottoman a chic addition to your living space. Embrace elegance in even the coziest corners.
Go grand with our Hadal Jacquard Solid Color Ottoman Cover in a large size. This cover offers an expansive canvas to showcase the intricate jacquard design. Perfect for larger ottomans, this option lets you make a statement while protecting your furniture investment.
When it comes to making a bold impression, our Hadal Jacquard Solid Color Ottoman Cover in an X-large size steals the show. Ideal for oversized ottomans, this cover redefines luxury and adds an element of grandeur to your living space. Embrace the splendor and make your ottoman a conversation piece.
Inject a pop of personality with our Limes Spandex Print Ottoman Cover. The playful print adds a refreshing burst of color to your room, instantly brightening up your space. The spandex material ensures a sleek fit, making this cover a standout choice for those who love a touch of vibrancy.
In conclusion, upgrading your living space's style has never been easier. Our diverse range of ottoman cover options offers something for every taste and design preference. Whether you're aiming for elegance, modernity, or a splash of color, our covers are designed to cater to your needs. Explore our collection today and give your ottoman the makeover it deserves – because style should always be effortless and impactful.