News
Sit in Comfort: Discover the Perfect Seat Cushions for Your Ultimate Relaxation
by Coziero Wuhu on Aug 29, 2023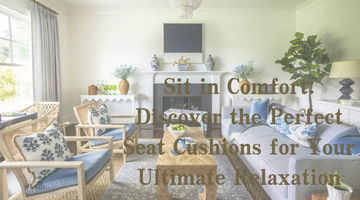 There's nothing quite like sinking into a chair that welcomes you with unparalleled comfort. At our store, we understand the importance of relaxation and the role that a quality seat cushion can play in creating the perfect atmosphere. Whether you're looking to elevate your seating experience at home or create a cozy nook outdoors, our seat cushions have been thoughtfully designed to provide you with the ultimate relaxation. Let's delve into our exquisite collection and find the seat cushion that matches your comfort needs:
Indulge in the luxury of our thick soft chair pads that provide not only exceptional comfort but also secure fastening with ties. Whether you're adding an extra layer of cushioning to your dining chairs or enhancing your favorite reading nook, these seat cushions redefine comfort.
Indulge in elegance and convenience with our ruffled chair cushions. Designed in a new American style, these dining chair cushions are not only a visual delight but also offer the convenience of being removable and washable, ensuring that your comfort remains fresh and inviting.
Take comfort with you wherever you go with our portable outdoor cushions. Crafted from Dutch velvet, these thick butt cushions are as stylish as they are comfortable, making them perfect for adding a touch of luxury to your outdoor seating arrangements.
Discover the versatility of our thick futon cushion with straps. Whether you're seeking extra support on a chair or a cozy floor seating option, the straps allow you to easily adjust and secure the cushion to your preference.
Infuse European charm into your seating with our European-style chair cushions. Available in both U-shaped and round designs, these thicken chair cushions are tailor-made for dining chairs, adding comfort and elegance to your dining space.
Experience the soothing embrace of thickened cotton with our soft dining room chair cushions. Designed for extended comfort during meals or moments of relaxation, these cushions provide a touch of luxury to your everyday routines.
Introduce creativity and comfort to your seating with our thickening dining chair cushion. Shaped like a creative biscuit seat pad, this cushion is a delightful addition that adds both comfort and character to your chairs.
Add a playful touch to your sofa or couch with our sandwich biscuits throw pillows. These whimsical cushions are perfect for creating a cozy spot for lounging and relaxation, adding a touch of fun to your living space.
Create a bohemian oasis with our oversized round floor cushion pillow. Whether used for meditation, reading, or simply relaxing, this cushion offers a comfortable and stylish way to enjoy your surroundings.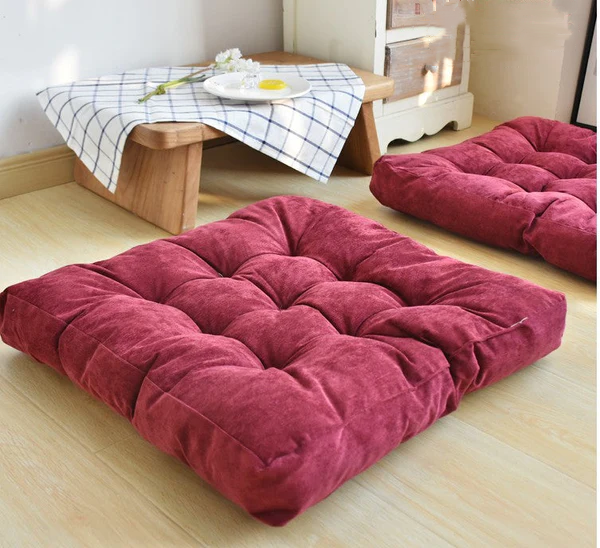 Experience the versatility of our corduroy round chair cushion that can be used as a seat cushion, tatami futon cushion, window mat, or yoga mat. Its adaptability makes it a must-have for any relaxation scenario.
In conclusion, your journey to ultimate relaxation begins with our carefully curated collection of seat cushions. From thick soft chair pads to creative biscuit seat pads, each cushion is designed to envelop you in comfort while enhancing the aesthetics of your space. Elevate your seating experience and discover the joy of sitting in comfort with our exquisite seat cushions. Explore our range today and take the first step towards a more relaxing lifestyle.