News
Instant Room Makeover: Explore a World of Tub Chair Cover Designs
by Coziero Wuhu on Aug 21, 2023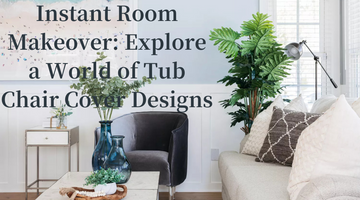 Are you craving a fresh look for your living space? Perhaps you've been contemplating a room makeover but feel overwhelmed by the idea of costly renovations or extensive redecorating. We have an exciting solution that's not only affordable but also incredibly effective in transforming your space – tub chair covers! These versatile and stylish accessories offer an instant room makeover that you'll love.
At our Tub Chair Cover Emporium, we take pride in curating an impressive selection of high-quality chair covers that are designed to elevate your home decor effortlessly. Let's dive into some of our most captivating designs that are guaranteed to catch your eye:
Crafted for both style and comfort, our Stretch Club Armchair Slipcover is a versatile choice that seamlessly fits your tub chair. The stretchable fabric ensures a snug fit while the timeless design complements a range of interior themes. Choose from a variety of colors to match your existing decor or experiment with a contrasting shade to make a bold statement.
Add a touch of classic charm to your room with our Plaid Fleece Solid Color Stretch Tub Chair Cover. The plaid pattern exudes a cozy and inviting vibe, making it perfect for creating a warm ambiance in your living space. The stretchable fabric guarantees a smooth fit and easy application, instantly transforming your tub chair into a visual delight.
If elegance and luxury are what you seek, the Nasal Velvet Solid Color Tub Chair Cover is the perfect choice. Crafted from plush velvet, this cover adds a touch of opulence to your room while protecting your chair from everyday wear and tear. The solid color design provides a sophisticated backdrop for other decor elements, allowing you to play with accessories to your heart's content.
Make a bold statement with the Morro Spandex Print Tub Chair Cover. Its intricate and vibrant print draws the eye and adds an artistic flair to your room. This cover is not just about aesthetics; the spandex material ensures a snug fit that enhances the contours of your tub chair, creating a harmonious visual appeal.
Nature-inspired themes always bring a sense of tranquility and freshness to any space. Our Thick Jacquard Leaf Pattern Tub Chair Slipcover encapsulates this essence perfectly. The textured fabric and leaf pattern infuse a calming ambiance into your room, turning your tub chair into a serene retreat.
Indulge in the velvety softness of the Rowen Velvet Solid Color Tub Chair Cover. This cover combines comfort and style flawlessly, allowing you to unwind in luxury while also adding a chic touch to your decor. With a range of rich colors to choose from, you can easily find the perfect shade to complement your room's color scheme.
For those who appreciate abstract art and contemporary design, the Velar Spandex Print Tub Chair Cover is a true masterpiece. Its unique print and spandex material give your chair a distinctive appearance, making it a focal point in your room. This cover is an excellent choice if you're looking to make a modern and artistic statement.
When you're in the mood for a transformation that's both comfortable and visually appealing, our Spandex Print Stretch Tub Chair Cover delivers. The combination of stretchable spandex and eye-catching prints ensures a seamless fit and a striking appearance. Let your creativity shine as you choose from various patterns and colors to match your decor vision.
In conclusion, a room makeover doesn't have to be a daunting endeavor. With our exquisite collection of tub chair covers, you can achieve an instant transformation that reflects your style and personality. Explore our range today and discover the perfect cover design that will breathe new life into your living space. Remember, a small change can lead to a big impact, and our tub chair covers are here to help you make that impact effortlessly.