News
Sofa Protection Redefined: Explore Trending L-Shaped Cover Designs
by Coziero Wuhu on Aug 21, 2023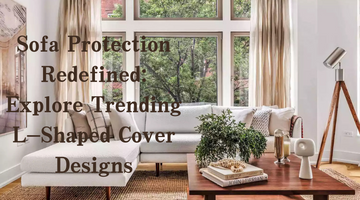 Your sofa is more than just furniture; it's a haven of relaxation, a gathering spot for friends and family, and a cornerstone of your living space. Naturally, you want to keep it looking its best while maintaining its inviting comfort. Enter the world of L-shaped sofa cover designs that not only protect but also elevate the aesthetic of your living area. Get ready to redefine sofa protection with these trending L-shaped cover designs that combine style and functionality.
When it comes to redefining sofa protection, the Large Diamond Check Solid Color Stretch Recliner Sofa Cover takes the lead. This cover brings a contemporary touch to your L-shaped sofa with its intricate diamond check pattern. Crafted for larger sofas, it's a combination of protection and elegance that transforms your space.
Make a bold statement with the Spandex Print Stretch L-Shape Sofa Cover. Its unique blend of spandex and vibrant prints results in a cover that not only fits like a glove but also adds an artistic flair to your living room. Embrace your creative side with this modern design.
Tired of constantly readjusting your sofa cushions? Look no further than the Stretch Anti-Slip Couch Cushion Slipcovers. These covers offer a practical solution by staying in place, ensuring that your L-shaped sofa always looks neat and organized.
Elevate your L-shaped sofa's appearance with the Stoup Spandex Print L-Shaped Sofa Cover. The intricate print and stretchable spandex material blend seamlessly to create a stylish and snug fit. Experience a sofa transformation that's both eye-catching and comfortable.
Embrace the beauty of nature with the Thick Jacquard Leaf Pattern Sofa Cushion Seat Cover. This cover's leaf pattern brings an organic touch to your L-shaped sofa, while the thick jacquard fabric ensures durability and protection against everyday wear.
For those seeking a touch of elegance, the High Elastic L-Shaped Sofa Cover with Skirt is a top choice. The addition of a skirt detail adds a sophisticated look while the high elasticity guarantees a wrinkle-free fit. Your L-shaped sofa will exude a refined charm.
Busy households need practical solutions, and the Waterproof Anti-Slip Universal Sofa Towel Seat Cover delivers. Combining waterproof protection with anti-slip features, this cover keeps your L-shaped sofa safe from spills and maintains its appearance over time.
Create a cozy retreat with the Plaid Fleece Solid Color Stretch L-Shape Sofa Cover. The plaid pattern adds warmth and comfort to your L-shaped sofa, making it the perfect spot to unwind. The stretchable fabric ensures a smooth fit that enhances the appeal of your sofa.
Looking for a cover that withstands the test of time? The Universal Wear-Resistant Sofa Cushion Seat Cover is designed for durability, protecting your L-shaped sofa from daily wear and tear. Practicality meets style in this essential cover.
Inject personality into your space with the Lares Spandex Print L-Shaped Sofa Cover. Its striking prints make a bold statement, transforming your L-shaped sofa into a work of art. The spandex material ensures a snug fit that highlights your sofa's unique contours.
Experience unparalleled softness with the L-Shaped Sofa Covers Softness Furniture Slipcovers. These covers prioritize comfort while maintaining a stylish appearance. Sink into luxury and enjoy the tactile pleasure of these sumptuous slipcovers.
In conclusion, sofa protection doesn't mean compromising on style. The latest trending L-shaped sofa cover designs offer an array of options that cater to your preferences. Whether you're seeking elegance, modernity, or supreme comfort, these covers redefine sofa protection by seamlessly blending functionality with aesthetics. Explore these designs today and give your L-shaped sofa the protection and makeover it deserves!